Fields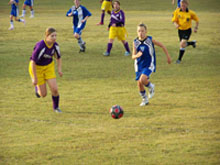 No pets or tobacco products, duh.
Do not ALWAYS train in front of the goals.
This wears out vital areas of pitch. Instead, work on 1v1 or combination wing play near a touchline, or tackling and passing in the midfield. Also, areas between fields and a couple cones make awesome rectangles for 1v1 - 3v3 games.
Spring and Fall 2011 Game Locations

2011 Fall Field Layout - Midland

The U5 and U6 divisions play on U6#1-3.
The U8 division play on U8#1-3.
The U10 division play on U10#1 or U10#2.
The U12 division play on U12#1 or U12#2.
The U13 and above divisions play on the U13 field.
Fall 2011 Practice Locations
Level 1 U5-U8 @ Collegeville
Level 1 U10 @ MIdland
Level 2 and Level 3 (Classic) U12 & under @ Midland
Level 2 and Level 3 (Classic) U13 & up @ Bishop.
ALL SKILLS TRAINING WILL BE AT MIDLAND.
Feel free to make other practice location arrangements (i.e. Mills Park, churches, etc.) if necessary.
Locations/Midland Fields
Locations/Collegeville Fields
Locations/Shobe Field
Locations/Boone Road Fields
Locations/Bishop Park